Cosmoscow 2017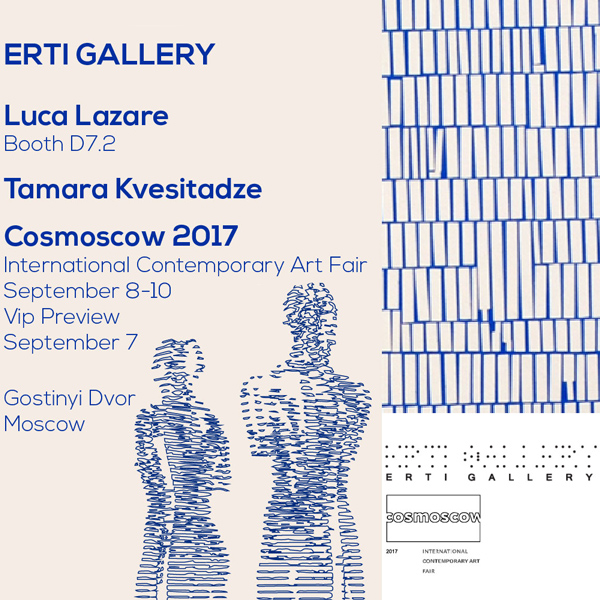 ERTI Gallery is pleased to present the artworks of Luca Lazar and Tamara Kvesitadze at Cosmoscow Fair 2017, September 8-10.
Luca Lazar (b.1957) lives and works in NYC since 2003. He works in a variety of media – painting, installations, objects video art and audio art.
"Moving Stills" is very special and meaningful series for artist. The underlying principle of the paintings of is controlled energy, raw powers created through and at the same time restricted by spatial structures and the arrangement of interlocking lines. Using a reduced vocabulary of minimalist forms, the untitled individual works in this series provide the suggestion of energetic movement within a motionless, frozen setting. The works aren't informed by any kind of anticipation of what the viewer may or may not see in them, but rather are to be understood by making the actual attempt of leaving the ways of perception behind that we are so accustomed to, in order to be "felt" quite intuitively in an act of self-communication.
His works has been exhibited in numerous galleries and museums, including Museum Friderianum (Germany) COBRA Museum (Netherlands), Ludwig Museum (Germany) Gallery de France (Paris), Zimmerli Art Museum (USA), MoMa (Moscow). Since 1997 he holds a position of lecturer at the European Academy of Fine arts in Trier, Germany.
Tamara Kvesitadze (b.1968) counts among the most important Georgian artists of the present day. She makes Kinetic sculptures, city installations and paintings, where the human being plays an essential role. Kvesitadze blends an astonishing breadth of techniques and creates multiple points of entry for the viewer into her surreal world.
"Any direction" is important artwork with its unique style, which is made in 3D format, it's a first time when the artist shows 3D format in watercolor paintings. The tension in the relationship between genders is a main focus of her works. Violence and sexuality are intertwined. Faces, masks and fragmented bodies symbolize the internal of modern individuals, their emotions, their strive for happiness and fulfillment, their fears and hopes.
The installation "Man and Women" is pretty striking on its own, two towering human made out of metallic discs are moving, draw closer, kissing and then separated each other between the organic and mechanic. The cold stone and the warm flesh of the body are really impressive.
"Man and Woman" was shown in a group exhibition at the Georgian pavilion at the 2007 Venice Biennale. Kvesitadze also represented Georgia with highly successful solo exhibition at the 2011 Biennale.
VIP Preview: September 7th 18:00 – 20:00
Vernisage: September 7th 20:00 – 23:00
Public days: 8-10 September 12:00 – 20:00
Information about tickets: https://www.cosmoscow.com/ru/visitors/#tab_info