Art Dubai 2019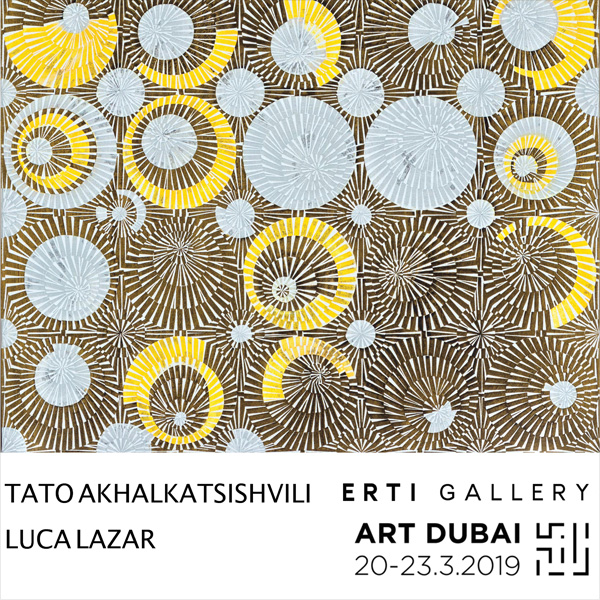 ERTI Gallery presents Tato Akhalkatsishvili's latest artworks from the series "The Velvet Sun" and Luca Lazar's abstract paintings
"Moving Stills" at Art Dubai 2019, booth C17.
Tato Akhalkatsishvili (B. 1979) is a Georgian-born multimedia artist. The main subject area of the artist is research, which is based on observations, such as psychological conditions during different manipulations.
At Art Dubai 2019 several artworks will be presented from his new series called: "The Velvet Sun". His research is viscerally linked to the sociological and political dynamics that are significant to the most recent history of Georgia and the Post-Soviet countries and particularly, the relationship between these nations with ambiguous present and almost intangible future. His attention is focused on the way of life of the nations involved and on the most extreme political dynamics in terms of regime.
The title of the series refers to something different, but not completely, these historical moments are connected because of various reasons and changes, as times are united and the worlds of generations meet each other. Promising force of the Sun, brilliance of which is nevertheless given by the reflections of its deep fabric, has turned into troublesome and often difficult realities, always directed towards the growing world, in which past experiences can rely on the most prescient visions.
The Georgian-born artist Luca Lasar (B.1957), who goes by the international artist name Luca Lazar lives and works in NY. In his early years he was a part of a minority in Georgian artists' generation in 1970-80s. In that period his art was conceptual which was illegal for the Soviet regime. This was the reason why he left his country.
Luca Lazar's artworks don't belong to any art movement; it's a mixture of geometric abstractions and minimalism. The artworks which will be presented at Art Dubai 2019 are part of Lazar's continuous production of his minimalist abstract series "Moving Stills", consisting of works that depict movement in time. Using a vocabulary of minimalist forms, the individual works in these series give the suggestion of energetic movement within a motionless, frozen setting. The works reflecting the experience of abstraction of our surrounding environment, and the necessity for Lazar "to portray how we experience the elements of nature and structure".
Each particle in his works exists in its own defined boundaries, exact size and precise direction, thereby creating an absorbent vibration that has simultaneously converging as well as diverging features, the entirety of movement and course of all elements in ostensible chaos, yet concrete Loquacity.
Lazar's works are part of internationally renowned museums including Museum Ludwig — Aachen collection (Germany), Documenta Archive Museum Fridericianum — Kassel — (Germany), Gallery de France (Paris), Zimmerli Art Museum, NJ(USA), National Tretiakov Gallery, Moscow (Russia), Henry Nannen Museum- Emdem (Germany), Leopold Hoish Museum — Duren (Germany) State Art Museum (Tbilisi).