Cosmoscow 2018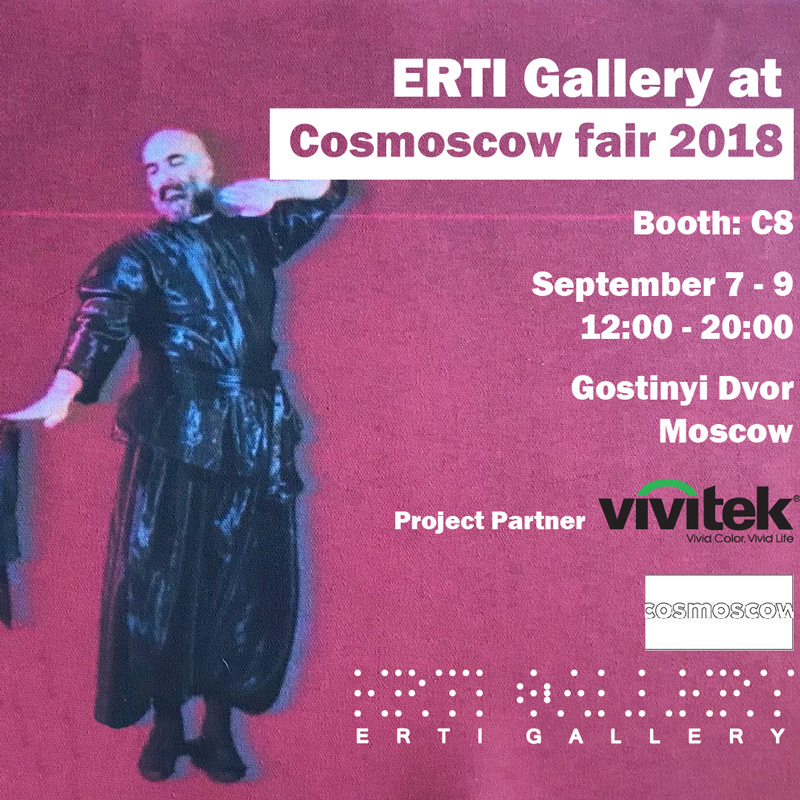 ERTI Gallery presents works of Uta Bekaia and Tato Akhalkatsishvili at Cosmoscow International Art Fair.
Uta Bekaia is a Georgian born (1974) multimedia artist currently residing and working in New York and Tbilisi. He creates multimedia performances and installations inhabited with wearable sculptures, exploring his historical cultural background, genetical codes and cycles of the universe.
"Kinto Dreams" represented at Cosmoscow is a three channel video installation, which is an artistic attempt to create associative links between contemporary and traditional ritualistic culture.
Kinto Dance is based on the character of "Kinto", (popular in Tbilisi in 19th century), who were usually traders mostly occupied by entertaining others in restaurants. The project "Kinto Dreams" tries to connect old Tbilisi city Kinto dance, with blooming culture of electronic music in Georgia, both as a representation of ritualistic culture.
The project is based on an idea of perceiving ritual, as an altered state of consciousness, which can be reached through enhancement of rhythmic, continuous beat, homogeneous dance and psychedelic substances. Project investigates urban culture in different period of time.
Tato Akhalkatsishvili (b. 1979) is a Georgian based multimedia artist.
His paintings capture states of alienation and introversion, where the recognizable signs of real-world — austere, foggy landscapes in this case — are transformed into mere psychological metaphors, into almost abstracted fields. The surface of his oil paintings time to time are intervened by collage or very heavy impastos, creating an illusion of three-dimensionality and layered subconscious spaces. The main subject area of the artist is the research, which is based on observations, such as psychological conditions during different manipulations. He is also interested in mechanisms of interrelations in the universe, and personal memories, which are always discussed in an epic-historical context.
Akhalkatsishvili often uses metaphors to rise and underline important issues, during which he stands on the crossroad of memories and historical data.