ERTI Gallery at Art Berlin 2019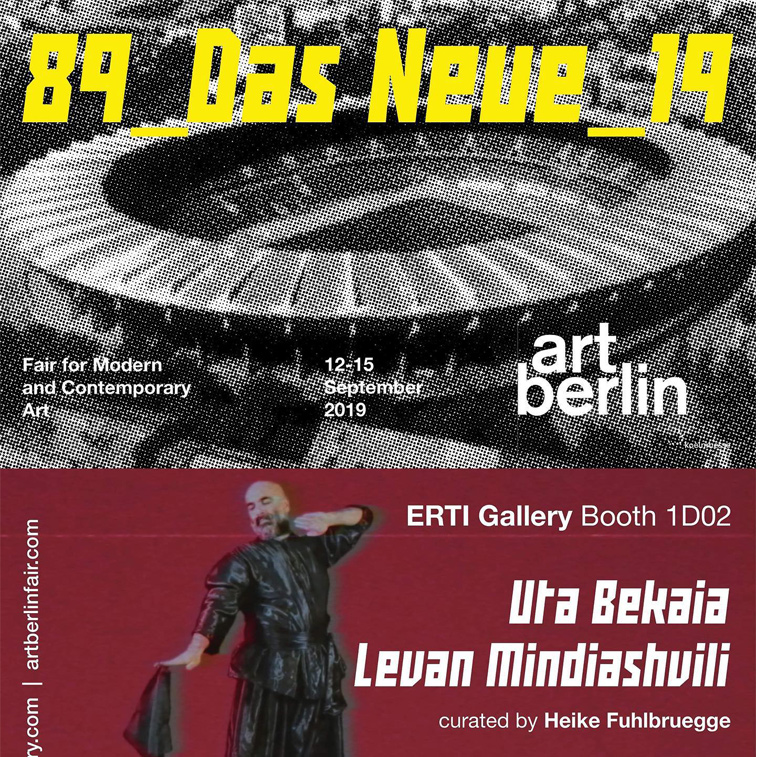 ERTI Gallery at Art Berlin presents works by two Georgian artists Uta Bekaia and Levan Mindiashvili. The project is focused on an idea of dance as a political activism as a tool for self-expression.

Uta Bekaia is a Georgian born (1974) multimedia artist currently residing and working in New York and Tbilisi.
He creates multimedia performances and installations inhabited with wearable sculptures, exploring his historical cultural background, genetical codes and cycles of the universe.
"Kinto Dreams" represented at Art Berlin is a three channel video installation, which is an artistic attempt to create associative links between contemporary and traditional ritualistic culture. Kinto Dance is based on the character of "Kinto", (popular in Tbilisi in 19th century), who were usually traders mostly occupied by entertaining others in restaurants. The project "Kinto Dreams" tries to connect old Tbilisi city Kinto dance, with blooming culture of electronic music in Georgia, both as a representation of ritualistic culture.
The project is based on an idea of perceiving ritual, as an altered state of consciousness, which can be reached through enhancement of rhythmic, continuous beat, homogeneous dance and psychedelic substances. Project investigates urban culture in different period of time.

Levan Mindiashvili's current research focuses on timeline "89.19" and places the viewer in the most recent "now" of Georgian's emerging scene.
2019 Marks the 30th anniversary of the fall of the Berlin Wall and the start of thenew, globalized world history. 2019 also marks another 30th anniversary — of April 9th of 1989 — when the anti-Soviet demonstration on Rustaveli Avenue in Tbilisi, was dispersed by
the Soviet Army, resulting in 21 deaths and hundreds of injuries. That day marked the tormented and painful process of independence of Georgia and the formation of its democratic republic. These two events once again remind us that in today's globalized
world, it is impossible to separate private from the global and how personal is intricately interconnected with political and vice versa.
"89.19" is a non-linear timeline that doesn't aim to analyze or comment on those political events directly, nor on the three decades that separate them from us. It situates the viewer in the most recent "now" of Georgia (and indirectly of every "new" emerging scene),
that is so enthusiastically accepted and labeled as "das Neue Berlin" of eastern Europe for its thriving night-life, unapologetic fashion and emerging contemporary art scene. Responding to the exhausted western methods of cultural labeling, "89.19" outlines the socio-political context of the current cultural revival of Georgia, and particularly the role of dance as a form of political activism. If we agree on the initial concept of "culture" "as an agent for change […] as a navigation tool to steer social evolution towards a universal human condition" (Zygmunt Bauman "Culture in a Liquid Modern World") undoubtedly we have to credit the early years of Cafe Gallery and later on, nightclubs Bassiani, and Khidi, for bringing together previously dispersed social groups together, for creating a safe space for self-expression, and a community based on acceptance and diversity. "89.19" also questions the idea of history as one solid, mainstream narrative, and instead proposes a fluid construct that can be re-arranged, re-constructed, and re-interpreted on a verypersonal level.
Structurally "89.19" is formed by three parts: first seven pieces are the archives of 1989: the numbers refer to the dates of the events and the iconic archival images. The second part also contains seven pieces: German article labeling Tbilisi as new Berlin, the time when Georgian government raided Tbilisi's clubs that actually only exposed their influence and role for the society, and architectural renderings of the clubs themselves. The third part consists of numbers, referencing to the most recent political turmoils in the country this summer, ironically outlining the cyclical nature of our history.

"89.19" forms part of an ongoing body of work "screens" that are hand-painted with liquid mirror on glass and mounted on a metal frame. These works are always created to a specific project or presentation. They either expand on the concepts of the work or contain its source material. They grow on the idea of "archives" in a broader sense: as a "memory" of the project, they were created for, and also as a time-capsule of the "now" for future generations. But most importantly for their reflectiveness, the surface becomes a meeting point of the viewer, surrounding where it's placed, and the work itself, a constantly "updating" chronicle of the very present.