EXTENSION.GE. IF YOU LIVED HERE, YOU WOULD BE HOME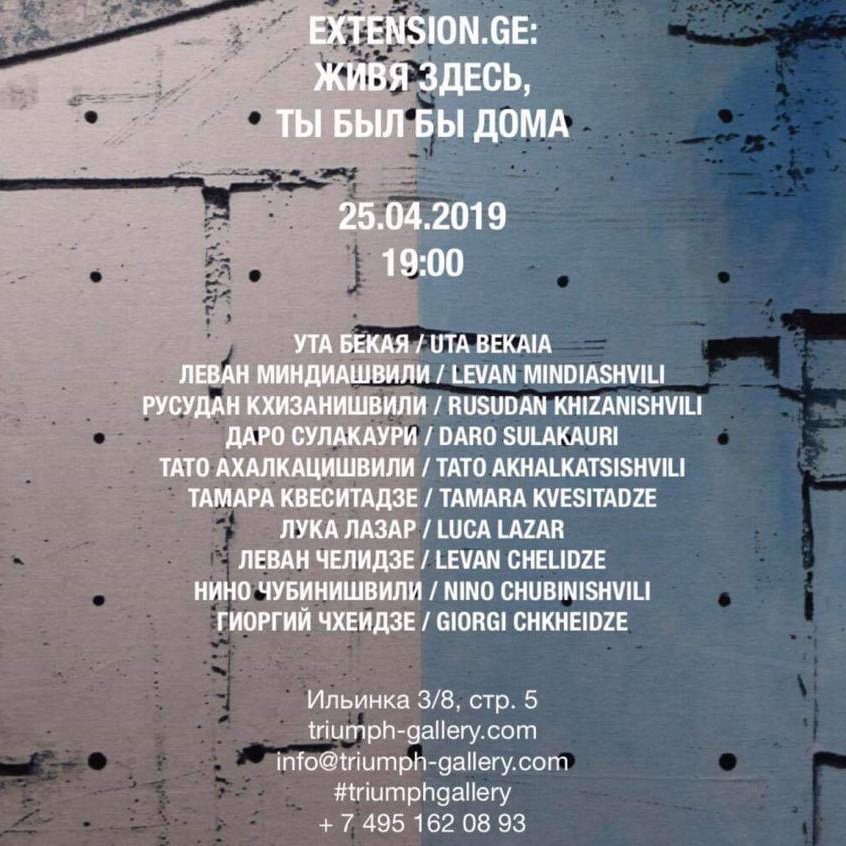 TATO AKHALKATSISHVILI, UTA BEKAIA, TAMARA KVESITADZE, LUCA LAZAR, LEVAN MINDIASHVILI, DARO SULAKAURI, RUSUDAN KHIZANISHVILI, LEVAN CHELIDZE, NINO CHUBINISHVILI, GIORGI CHKHEIDZE
Triumph Gallery in partnership with Ria Keburia Foundation, ERTI Gallery and Window Project, Tbilisi, presents the 11th edition of the EXTENSION project—If You Lived Here, You Would Be Home. In line with now traditional approach to exploring different national art scenes, ten Georgian contemporary artists, who represent various media and subject matters, are brought together by their interest in heritage and cultural memory.
Georgia has always existed at the crossroads, from the Ottoman Empire to the Soviet regime, from the Rose Revolution to the era of the new oligarchs. Having overcome a deep trauma, Georgia is now a vital link in cultural exchanges. In spite of many years of migration, regime change and economic turmoil, Georgians have managed to preserve their national heritage, avoiding the fate of "the cultural melting pot" that has befallen neighboring lands. This cultural depth and richness can be seen in the work of Georgian contemporary artists, who continue to explore their deep ties with tradition and cultural memory, even if working in cities all over the world. Georgia, with its special cadence of life, seems to have avoided the identity crisis that many other nations face today. With a slower pace to life and a tendency towards meditative contemplation, the atmosphere of this country lets you focus on actual values, reflect upon the changing present and consider alternative ways forward.
Extension.ge: If You Lived Here, You Would Be Home displays an overview of Georgian contemporary art by presenting artists with diverse background. All exhibition artists belong to the generation which is part of the new dynamic scene that looks beyond the geography of their national borders. Without ignoring their cultural identity and possessing particular experience of contemporary reality, these artists make a claim to international presence and benefit from their openness and desire for exchange.
Exploring transitional fluid state of historically accepted social forms and paradigms, the exhibition revisits the notions of place, identity and history. It doesn't propose answers or solutions, but it does offer opportunities to closely examine artistic practices, storytelling and new perspectives. The profound intergenerational impact of postcolonialism, economic exploitation and ideology requires nuanced insights and experiential responses, which inevitably shapes the reality and brings about new artistic practices. Participants of Extension.ge: If You Lived Here, You Would Be Home are renegotiating the definitions of place and home in order build renewed links between the notions of memory, geography, identity.