Koka Ramishvili – Light Machines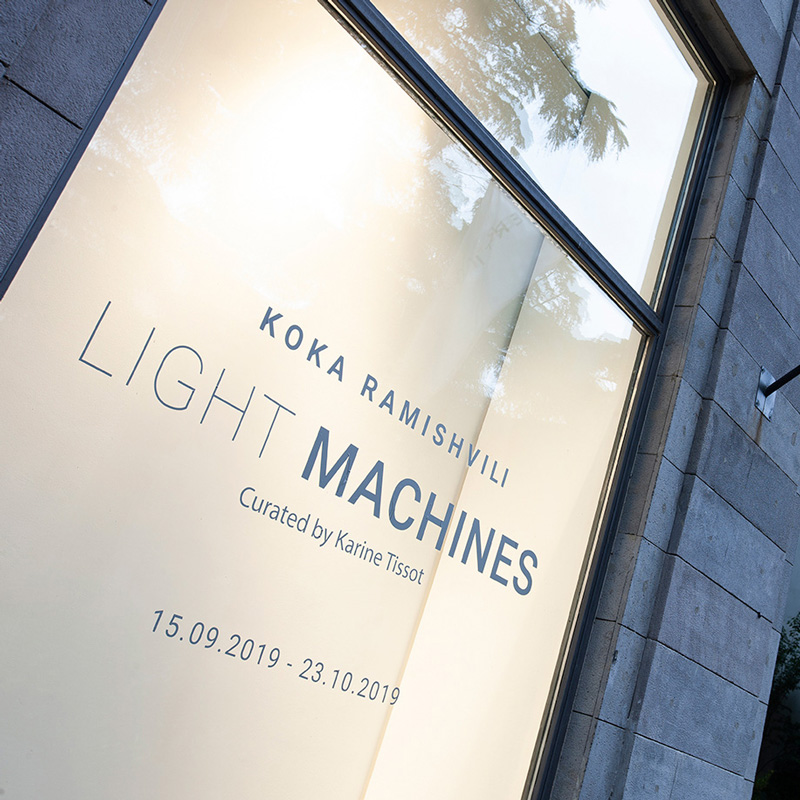 Koka Ramishvili
Light Machines
Curator: Karine Tissot
Project Partner: SOLO
Galleries x Tbilisi Photo Festival
Koka Ramishvili's Light Machines are much more than still lifes for they are systematically animated by movement – which situates the work in a perfect contradiction of a genre normally characterized by the inertia of the motif (still life). Nor can they be reduced to a mere expression of a certain experimentation since there is a deliberately studied aesthetic to them.
Between art and a sort of demonstration, Ramishvili creates geometrical shapes – sometimes inspired by the world of de Chirico or the sculptures of Brancusi –to reveal, through photography, a light that the artist breaks down into a monochrome array of soft grays. No black and white contrasts that would strictly separate the tones and reduce the world to a Manichean view of things. On the contrary, a generous array of nuances with blurred outlines offers the eye the chance to penetrate these intermediary worlds lying between bright and dark, somewhere between dreams and reality, beyond a truth that is unique, sharp, and caught in a fraction of a second by a photo journalist.
Koka Ramishvili works the light of his photos and acts on the very way light is perceived. Eschewing all spiritual meaning, he fosters a perceptual, sensory experience where time is superimposed over transparency. Everything moves towards impermanence. Everything is becoming. Process is essential. Here lies the essence of this work.
In the challenge of expressing light as an abstract structure, he animates the installations of his invention so that they retain a fleeting impression. Thanks to movement, real objects shed their materiality in subtle plays of shade and light. His images thus create visions that are inaccessible to the human eye and his simplest staged scenes suddenly verge on the abstract, making the photograph nothing less than photography, in other words, a writing with light in the etymological sense of the word. On the other hand, when he is looking outside the studio to express a form of combustion in the landscape, Ramishvili will occasionally polish the image in the touching-up process. Light is manipulated after the fact. A pair of real-looking suns, for instance, appears in an immaculate sky (Ascension, pp. 22-23), and three glowing celestial bodies create a sequence on the horizon (Three Stars (Evolution), 2019, pp. 30-31), while a bright illumination takes over a face (The Shining (Face) – 2017, p. 24).
As a visual artist who has always sought to slip his thinking into multiple mediums – while making sure to master them perfectly, each according to its use – Koka Ramishvili took up photography again in 2016. Having abandoned the documentary practice seen in the early years of his career, he is now devoting himself to photography as he would were he working on a painting, that is, his compositions are first elaborated conceptually before they are executed, making his work both a form of thinking and a realization, a perfect marriage of content and form, a paragon of comprehensiveness. They promise to stretch the limits of representing the world thanks to his working of the light. Indeed, although his work follows in the wake of themes in art that go back centuries – like portraiture or landscape – Ramishvili regularly puts light at the center of his thinking and reminds us of what Laszlo Moholy-Nagy pointed out in 1925 in his foundational book, Painting Photography Film, "I am convinced that a new art of light is being born." Until then the history of art had been punctuated by works that placed front and center the play of shadows and light, from the research of Renaissance painters into chiaroscuro to the expression of the sensation of light by Turner and Monet, although photography opened a field of possibilities that proved vaster by far.
Koka Ramishvili is following a trail first blazed by modernity a century ago. Nevertheless, his experience, renewed by the summers he has spent in Greece over the last few years, feeds into a singular approach filled with striking patches of white, reliefs formed from gentle lines, and clement skies that give voice to a harmonious world in black and white, whose light is the condition of the visible. It is indeed what makes the perception of shapes and limits of objects and spaces possible. If the role played by light in art has often been inextricably linked to the deepening of scientific knowledge and the appearance of technologies that put it to work, Koka Ramishvili raises it to the level of the main protagonist in order to speak about the essence of art and life in a singular impulse of freedom and intuition that avoids the pitfall of the cliché.
Karine Tissot, 2019