NADA Miami 2018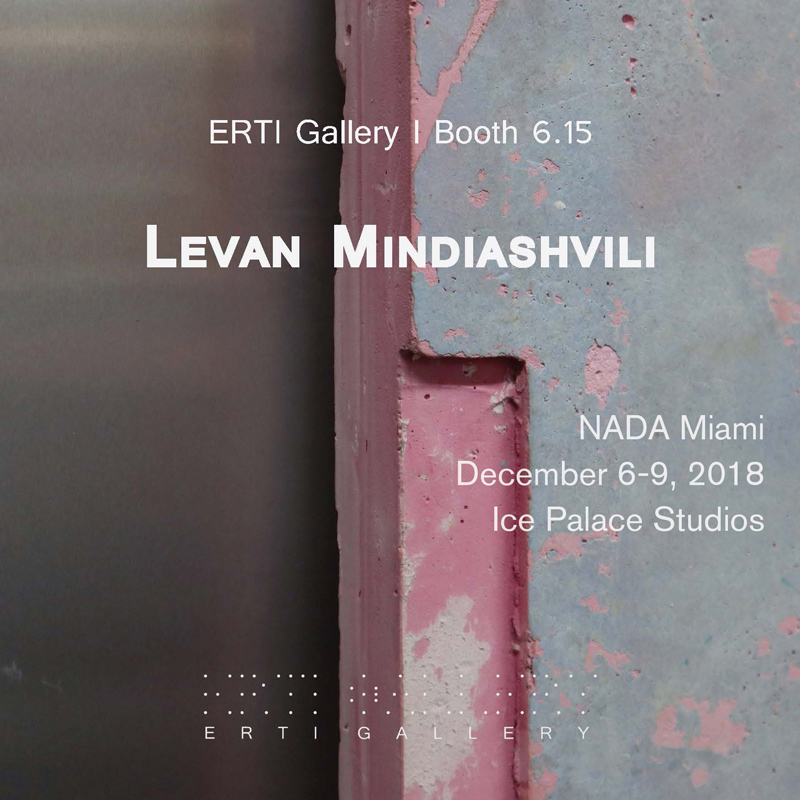 ERTI Gallery is pleased to present Levan Mindiashvili's solo presentation at NADA Miami 2018
The focus of Levan Mindiashvili's practice is a shifting condition of historically accepted social forms and value systems, in which he revisits canonical truths regarding identity, history, and the language. His solo presentation at NADA, takes the point of departure the oeuvre of LA-based Dutch conceptual artist Bas Jan Ader, and mainly his last piece titled "In Search of The Miraculous" (1975) in which Ader attempted to sail across the Atlantic on his way to the upcoming show in Groningen. The discovery of his boat 10 months later and disappearance of his body, inevitably fueled already existing longing for erasure of the border between art and life, endured by the fact that Ader's conceptually rigorous oeuvre was deeply invested in its seeming antithesis: Romanticism, and for him, the authenticity of the work of art lay not in representing philosophical concepts, but in embodying them.
In works presented at NADA Miami, Mindiashvili explores conditions, in which despite the ever-growing complexity of our everyday reality, our perception of the world is reduced to the single digital image: ephemeral and temporal, moderated and conditioned either by us — ourselves or by technology and algorithms. If pigmented hydrocal tiles attempt to grasp ultimate physicality of the digital image, his hand painted mirror "Studies" become the point of encounter of the work and it's surrounding — not depicting it, nor dissolving in it, but the synthesis of these two.
Levan Mindiashvili is a Georgian born visual artist living and working in Brooklyn and Tbilisi.
He holds his BFA in Sculpture from Tbilisi State Academy of Arts and MFA in Crossed Media from The National University of Arts of Buenos Aires, Argentina. Among his awards is Commission Grant for Public Art Projects from National Endowments for Arts (New York, 2014) and Emerging Artist of 2011, Movistar Arte Jóven (Buenos Aires, Argentina). He was a resident artist at NARS Foundation for Spring/ Summer 2018 season, Brooklyn, NY. His works had been included in recent group exhibitions at The 7th Beijing Biennale, China; Georgian National Gallery, Tbilisi; Super Dutchess, NYC; ODETTA, Brooklyn; Tbilisi History Museum, Georgia; Arsenal, Kiev; Tartu Art Museum, Estonia; Recent solo and duo exhibitions include "Non_ Place" at SFA Projects, NYC; "Here" at Georgian National Museum, Mestia; "In-Between" at State Silk Museum, Tbilisi; "Unintended Archeology" at The Lodge Gallery, NYC; His works are in public collections of Georgian National Museum, State Silk Museum (Tbilisi) and National Art Museum of China (Beijing).