Tbilisi Art Fair 2019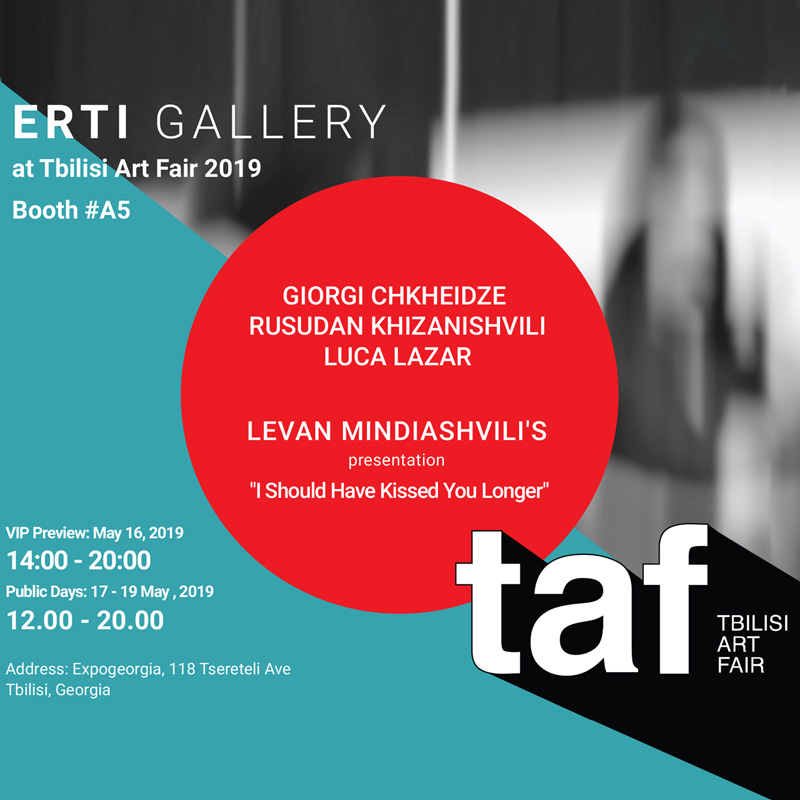 ERTI Gallery presents booth A5 at second edition of Tbilisi Art Fair, with Levan Mindiashvili's spe-cial project «I Should Have Kissed You Longer» and a group show with the artworks of Giorgi Chkheidze, Rusudan Khizanishvili and Luca Lazar.

Levan Mindiashvili

Mindiashvili focuses his solo presentation at TAF'19 on his ongoing inquiries into contemporary cultural production and mainly, on how the "local/national" identities are constructed and displayed in the context of globalized contemporary art world. Spanning between the language, architecture and the blooming nightlife of Tbilisi – Mindiashvili creates an immersive installation where entire booth becomes a performative setting. The sound for the installation is created by a New York based Georgian DJ and producer Sophia Saze (Dusk&Haze) from her upcoming debut album "Self." Presentation at TAF serves as an introduction to Levan Mindiashvili's upcoming solo show with the gallery "I should have kissed you longer" in late summer of 2019.
Levan Mindiashvili also will be a part of TAF TALKS organized by Irena Popiashvili (Kunsthalle Tbilisi). He will be moderating a panel with the artist Monika Sosnowska and curator Sohrab Mohebbi (SculptureCenter NY).
Levan Mindiashvili is a Georgian born New York based visual artist. He works across almost every artistic medium, creating modular sculptural assemblages and installations that deal with the fluidi-ty as a current state of being, and revisit canonical truths regarding historically accepted social forms and paradigms. He holds BFA from Tbilisi State Academy of Arts, and MFA from Buenos Aires National University of Arts (IUNA). Recently he hold a residency at NARS Foundation (NY) and in fall will be part of AIM program at The Bronx Museum of the Arts. His recent solo presenta-tions include NADA Miami, Georgian National Museum, State Silk Museum. His works were shown at group exhibitions at BRIC Biennial Vol.3, SculptureCenter, SFA Projects, 7th Beijing Biennial, NARS Foundation. His works are in collection of The National Museum of Art of China, The Geor-gian National Museum, and State Silk Museum.

Giorgi Chkheidze

Art works of Giorgi Ckeidze can be seen as visual experiments and at the same time it is related to the sim-ple and complicated natural forms, which sometimes we see with naked eye, through microscope or tele-scope. With his special technique, Chkheidze is spraying colours on different surfaces . As a result we got unusual pictures, where we can't notice paintbrush or other trace of artist. But compositions aren't chaotic, there are created micro worlds with little forms and repeated geometric elements.
In early works, the artist created a special order with geometric shapes. Recently presented works are even more minimalistic in color and shapes. Artist is creating one or two illusory points on the geometricaly ideal surface. The concentration of vision is transformed into a meditative act, where thoughts about the order of the world change into the perception/sensation of mysterious integrity of the universe.

Rusudan Khizanishvili

Rusudan Khizanishvili lives and paints in Tbilisi, Georgia. She was born in 1979 and received her two BFAs in Painting from J.Nikoladze Art School and from Tbilisi State Academy of Art. In 2004 Rusudan received her MA in Film Studies from Tbilisi State Academy of Art. For Rusudan a blank canvas is an escape road or in-tradimensional portal to the new world created by her imagination. This world is populated by strong women who carry their social burden day in and day out, while retaining their archetypal allure.
Rusudan also frequently includes animals that serve as symbolic guides between cultures and identities. Her confident use of color combined with a palpable and often sensuous handling of oil paint demonstrates a maturity that proved her interesting to many galleries and residences across the world. In 2015 ten of her works have been bought by the Georgian National Museum of History and Culture as part of the Georgian national heritage.
The overarching theme of Rusudan's art (and of any art or any aspect of culture, if we seriously consider that question) is an exploration of how humans relate to the world, our role and place within it. Essentially, there are three ways this relationship can go: either through defeating the outside world (and our very own Western civilization goes to great lengths to ensure this), being afraid of it (and thus worshipping its sym-bols in an act of selfdefense), or befriending it (and essentially being absorbed by it). As an artist, Rusudan strives to find ways, techniques, and archetypes to communicate with the outside world, to relate to it. First, she works through things inside herself, finding names for what she sees and feels, eventually moving towards the outer world. This is where a dialogue with the outside world takes place.
Two worlds meet in Rusudan's works: One is the world of humans and their passions, the other is a uni-verse filled with both cosmic and terrestrial creatures, as well as with their emotions and instincts. As time goes by, Rusudan thinks more and more about these connections, her works becoming increasingly intellectual.

Luca Lazar

Luca Lazar, (b1957), who lives and works in New York, explains his art as, "distinctively sensuous and complex in their simplicity". Because he is concerned with structures, systems, rhythm, infor-mation, perception, and thus also about social utopias and reforms. His refined use of texture grants form, color and image design far-reaching autonomy of the figurative. The works exhibited at TAF2019 are part of Lazar's continuous production of his minimalist abstract series Moving Stills, consisting of works that depict movement in time. Using a vocabulary of minimalist forms, the indi-vidual works in this series give the suggestion of energetic movement within a motionless, frozen set-ting. The works reflecting the experience of abstraction of our surrounding environment, and the necessity for Lazar "to portray how we experience the elements of nature and structure".
Lazar is an accomplished, award-winning artist with a long-standing track record, whose art has been exhibited in museums and galleries around the world and whose works are part of internationally re-nown museums including Museum Ludwig – Aachen collection (Germany), Documenta Archive Museum Fridericianum – Kassel – (Germany), Gallery de France (Paris), Zimmerli Art Museum, NJ(USA), National Tretiakov Gallery, Moscow (Russia), Henry Nannen Museum- Emdem (Germa-ny), Leopold Hoish Museum – Duren (Germany) State Art Museum (Tbilisi).