Tbilisi Art Fair | TAF 2018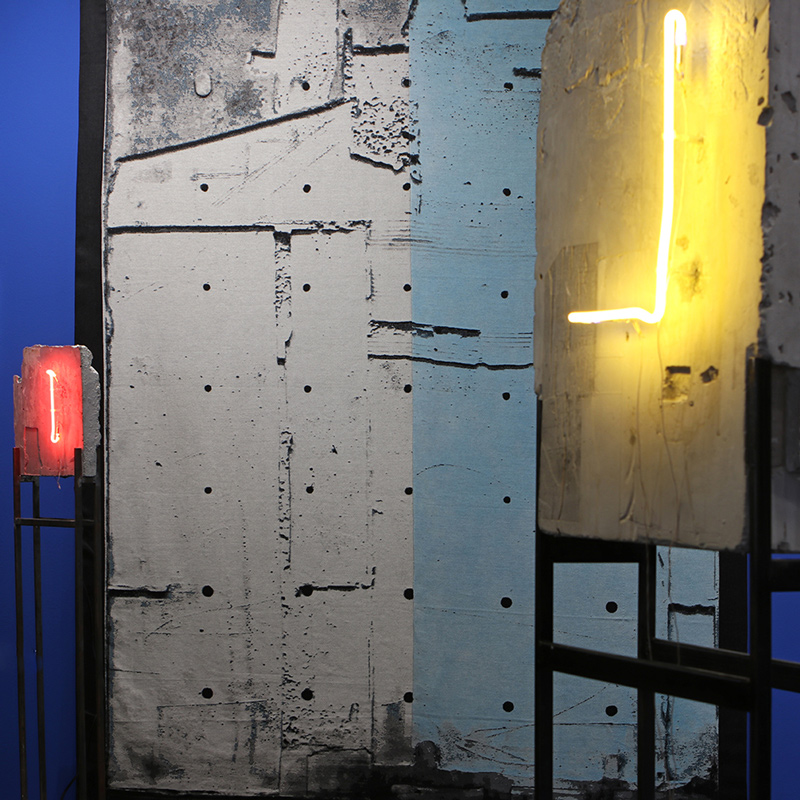 ERTI Gallery presents works of Tato Akhalkatsishvili, Levan Mindiashvili and Levan Songulashvili at Tbilisi Art Fair 2018 booth #A5. As a sight specific project gallery presents ceramic sculpture of Uta Bekaia «Inhabitants Of Childhood»
Tato Akhalkatsishvili (1979) lives and works in Tbilisi, Georgia. Paintings of Tato Akhalkatsishvili capture states of alienation and introversion, where the recognizable signs of real-world – austere, foggy landscapes in this case – are transformed into mere psychological metaphors, into almost abstracted fields. The surface of his oil paintings time to time are intervened by collage or very heavy impastos, creating an illusion of three- dimensionality and layered subconscious spaces. His interest in the mechanisms of the power and its influence on one's identity is best represented in the series entitled "Tomorrow Will Be Yesterday" depicting almost ritualistic alliance of snowmen in creepy, dark, snowy landscapes.
Levan Mindiashvili (1979) is based in Brooklyn, NY. His practice involves multiple artistic mediums – sculpture, painting, neon, tapestry – and expands to curating and writing. He creates installations that focuses on the transitional, "liquid" state of today's social forms and deals with the fragility of current paradigms and value systems. Physical nature of his chosen materials highlights temporal conditions and question the mechanisms of our perception. Pigmented plaster sculptures mimic found concrete remnants while being rigorously hand produced. They are reminders to once solid ideas of "place" and "home." Hand altered jacquard tapestries are translations of the paintings and the sculptures, expanding the possibilities of the work to exist fluidly in various identities.
Levan Songulashvili (1991) Based in NY. At the age of 22, Songulashvili graduated from the Tbilisi State Academy of Arts with a bachelor's degree in drawing and printmaking, he won several merit scholarships and prizes and became the first Georgian artist who earned his Master of Fine Arts degree with honors from The New York Academy of Art in Painting. His last large scaled work (2x3m) presented at TAF Idem et idem, reflects the idea of mutability and identity. It is perceived to be the continuation of his video sculpture project «The system of objects» (currently presented at ERTI Gallery space). Mass scenes, existentialism and searching for self-identity are the key issues in his works. A journey, a passage of life, is an intended meta- phorical journey and intuitive installation that expresses the mental, emotional, and psychological experiences of life.
Uta Bekaia (Sculpture project) – Inhabitants of Childhood
Cyclical nature of the universe and its continuity is one of the main sources of Uta Bekaia's inspiration. His multifaceted practice expands to sculptural costumes, performative installations, and video and attempts to reinvigorate communal, ancient memory with personal, current experiences. For Tbilisi Art Fair Bekaia creates site-specific installation "Inhabitants of The Childhood." A small island in the middle of the Expo Georgia – the current venue of the fair and the nearest playground for the artist in his childhood years – had always teased Bekaia's imagination, imagining all the possible creatures that could inhabit the "woods" and the "water." For this installation Bekaia brings to life those phantasies, creating porcelain sculptures that are half animals – half invented creatures, that evolve into each other and outline the cyclical, spiral evolution of the life and re-birth.
* * *
I am part of the load
Not rightly balanced
I drop off in the grass,
like the old Cave-sleepers, to browse wherever I fall.
For hundreds of thousands of years I have been dust-grains floating and flying in the will of the air,
often forgetting ever being in that state, but in sleep
I migrate back. I spring loose
from the four-branched, time -and-space cross, this waiting room.
I walk into a huge pasture
I nurse the milk of millennia
Everyone does this in different ways. Knowing that conscious decisions and personal memory
are much too small a place to live,
every human being streams at night
into the loving nowhere, or during the day, in some absorbing work.
Mewlana Jalaluddin Rumi