TNN GALLERY at START Art Fair, Saatchi Gallery, London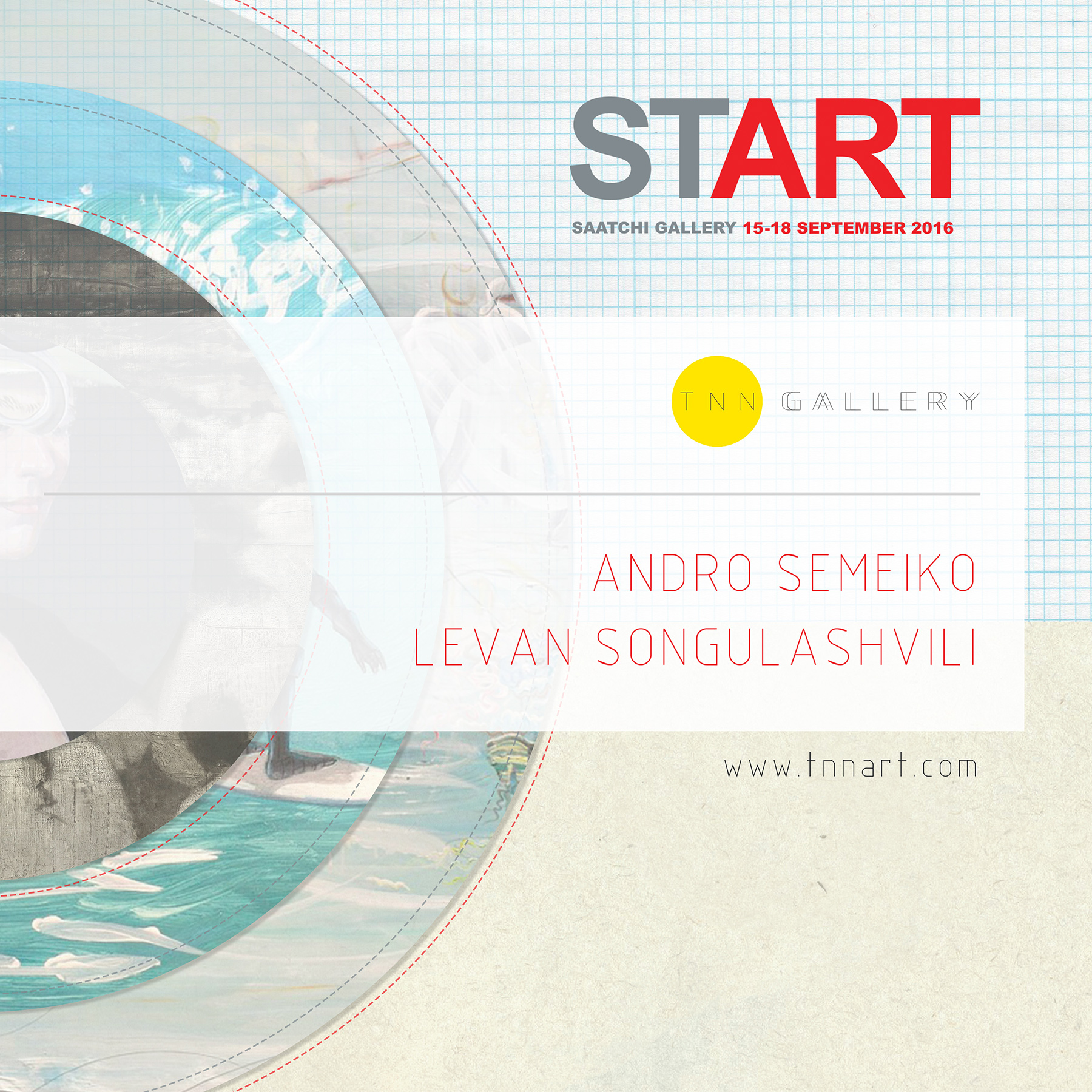 At START Art Fair TNN Gallery will prestent artworks of Andro Semeiko and Levan Songulashvili.
Andro Semeiko is a Georgian born and London-based artist, who constructs multi-layered installations based on his practice as a painter in conjunction with empirical research into history and literature. Semeiko has been collaborating with writers, scientists, psychologists, actors and dancers and his work is often site-specific and multi-disciplinary.
In his painting Semeiko employs symbolism associated with armour in Renaissance and Baroque painting for creating a series of works in which a suit of armour becomes a hero engaged on absurd 'knightly quests' such as surfing, hang-gliding, sipping cocktails, eating ice cream etc. Semeiko is "messing-up the orthodox divisions of experience – history and the present, big and small, inside and outside, modernity and antiquity. By telling tales that mix these up, Semeiko offers us a place where the division between what is actual and what is possible are put into tension. … Do we believe him? It doesn't matter. What matters is not so much that the stories told are real, or have happened, or are possible. What matters is that these stories encourage us to think that things have the potential to be different, to change." JJ Charlesworth (art critic, ArtReview)
Levan Songulashvili 24, a conceptual visual artist, was born in Georgia and currently lives and works in NY. He is always in search of a new forms and a new conception, this process looks like a never ending quest for an answer – for what the mankind have strived throughout the history.
After his work "Jellyfish" was sold at Sotheby's, featured in the "Take home a nude" event on October 15, 2015, his name is once again in the highlight of world art media, this time by the project of Iggy Pop Life Class – a pop legend posed nude for the 24 year old Levan. The project was organized by the Brooklyn museum and conceived by artist Jeremy Deller.
His artworks are created with the synthesis of rational modules and inner vibes. The process of problem identification, understanding and finding the other reality and finding all possible answers takes a main time of his working process. His main technique is the synthesis of two colors the black and the white, as for Levan, the main thing is the idea and the conceptual vision if the reality, these two colors convey in a best way the emotion and the Artist's main massage.
Existentialism, mass scenes, erotic strokes and the most important – recognizing yourself in a mass – these are the issues on which Levan currently works. It is important to mention his one of the last artworks "Idem et Idem" (which also will be presented at START art fair) a Latine phrase, which word by word means "same and the same", i.e. "all the same", and word identity derives from it.