Uta Bekaia THE PRESENT curated by Heike Fulbruegge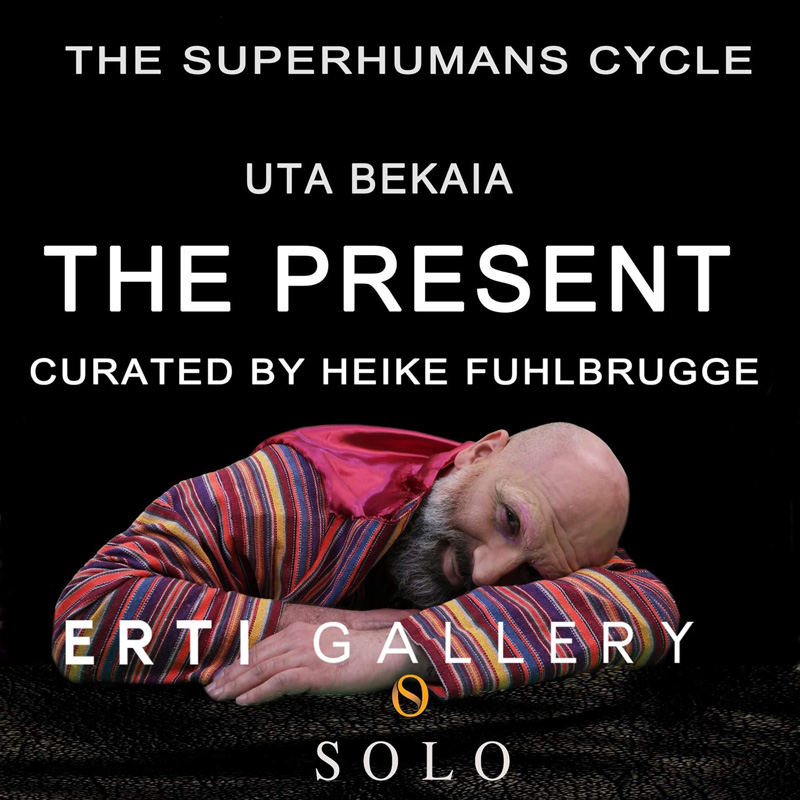 Curator: Dr. Heike Fuhlbruegge
Project Partner SOLO
Official Host Ambassador
Exhibition dates: May 15 – July 5

ERTI Gallery is pleased to present the epic second solo exhibition THE PRESENT from the multimedia trilogy The Superhumans by Georgian artist Uta P. Bekaia. The project which transforms the whole gallery space into an artistic environment interwinds video, sound, art objects, probs, costumes of different characters of the videos and embroidery works which distill the images from the videos. His works explore connections in general figures of representation, as well as – themes of conflict and failure, love, glory, repression, icons, and taboos.

Uta P. Bekaia is a master of masquerade and spectacular production. Throughout his career, he has simultaneously designed fashion, created dramatic fashion shows and artistic performances in New York. And yet his characters – he personified all of them – do not represent actual personalities. Instead, they paraphrase social and cultural stereotypes with the aim of deconstructing them through the prism of mythology, cinema, classical painting, or advertising.
"I give myself the permission to realize conscious and unconscious sides in a radical way", describes the artist his condition when he starts his triptych cycle.

Within the new part The PRESENT of the cycle he continuous to develop his unmistakable and seminal body of work. Twenty unique characters in nine videos expand his artistic cosmos. The symbol characters are like "The Dancer, finding energy in movement", "The Forest Man, unity with earth" or "The Hungry Man, never enough to fill the void inside".

Trickster – order, and disorder

A type like "The Sleeper" reflects Bekaia's profound research because the sleeper is always a type of cultural trickster. Known for 'Awakening from sleep', 'Creation' and 'Rescue', from antique time until now. The sleeper cuts each rational order through sleep because sleep or the dream is a space without rules. In the past sleep is portrayed as the moment of religious visions, or that dreams can also be something individual, which is only generated by the soul or the thinking of a person – without the participation of God the Father or his evil opponent. This becomes especially clear when it comes to dreaming subjects that are, more or less, erotic, as in the masterpiece of Correggio of 1523: Venus. The dream of the individual also generated monsters in the Renaissance – but completely detached from New Testament hellish ideas. The monsters in the visions to be seen in the paintings of a Hieronymus Bosch, a Jan Mandijn and other mainly Northern European painters are horrendous fantasy figures, composed of human and animal bodies. In their monstrous and frightening forms, they are certainly reminiscent of those biblical apocalypse-inspired figures, but the Renaissance monsters are individualized dream-births that give birth to the sleep of reason.

State of mind

Revealing each of these characters is a result of that enormous creative effort and courage without which no mental or physical journey starts. They have now an even closer bond with each other, as the created types in the first part titled PAST (2017/2018) of the cycle. In the previous ones the artist invented, built and dressed nine characters called superhumans who he summoned from mythological-folkloric topics or collective memory using his personal memory, stores, and wardrobes. He attributed them to an individual choreography, costume, and sound. The past and present figures have a superhuman scale, a size, which exceeds human proportions.

The characters are autonomous and equitable inhabitants of the artist's subconscious or conscious spheres. Therefore all of them occupy their deserved place around his so-called "conscious table" (a reminiscence of the generous guest experience in the Georgian culture). Symbolizing the permanent interdependence of the physical world represented throughout materials like costumes, attributes and tarot-cards, and the dematerialized world like mental states.
I this case, the dramatic projection, or display with light is directly linked with bringing clarity and light in the hidden, dark and unconscious field, or their realization.

In deep water

Deep cultural references à la C.G. Jung are also part of the popular repertoire of the Georgian artist: C.G. Jung, for example, understood Western alchemy as depictions of alchemists who experienced their own projected unconsciously in the material. The alchemists then oriented themselves on their dreams and visions to get to the mystery of the material, but they did not yet know where to go. Thus, they were in a parallel situation to modern humans who want to explore the unknown of the unconscious psyche. The alchemists identified inorganic matter as a living unknown to which they had to establish a relationship with it. These were served by dreams, meditation exercises and the phantasy form of "Phantasia vera et non phantastica", which largely corresponded to what Jung had developed as an active imagination.

Drama and resistance

The individual floral ceramics, – presented in acrylic boxes -, such as a rose, hyacinth, and sunflower are symbolically linked to death and love in the work of Bekaia. Already in Greek mythology, Apollon let the flower of the same name grow out of the earth, where his stunningly beautiful lover Hyakinthos was killed by jealousy of Zephyrus (the west wind).
Bekaia combined each flower with a poem, which highlights there existential drama: I looked for you / In empty places / And I found you / Within me.

So flowers – crossing epochs and cultures, they entice and seduce, unite, are a sign of either respect, optimism or opulence, seemingly free of provocation. But flowers have always been more than just a motif of longing, a dramatic symbol of the transience of life or an erotic alter ego of human sexual organs. They can also be read as political metaphors that just as much illustrate the phenomena of botanical migration into socio-politics as the encroaching heteronomy of a genetically altered reality. The classical symbolism of the rose, such as the one in Bekaia's work, includes declarations of love, innocence, and transience. However, it once also served as a visual formula for secrecy – sub rosa – for instance among the alchemists, while the presentation of a thorn-studded rose stem even served as a declaration of war. Also, a famous resistance group during the Nazi era acted under the name of the "White Rose".

Even the flared heart object, which is opulently decorated with hundreds of sparkling pearls, looks floral, delicate and unique: This organ is an important motif for the artist, it is an expression of the eternal energy of love and the rhythm of life.

Sparkling archive

Since Uta Bekaia not only refers to general types in his characters, as well to profoundly researched motifs in art history, he refers also to heroes in comics or landscape sequences as well as music of his childhood – the artist creates a profound and sensible, and just as sparkling cultural archive of memories and human conditions in general and in particular of the Georgian past and political present. The dramatic staging function as an archive as a metaphor in which the key is the dynamics of the permanent transmission of information.
Text: Dr. Heike Fuhlbruegge